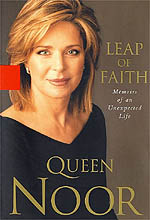 Queen Noor's Autobiography

I finished Leap of Faith: Memoirs of an Unexpected Life by Queen Noor yesterday. It was a long read, but in the end I am glad I finished it.
I think what her purpose of writing this book wasn't about herself. In the end you have really only a glimpse into her life as the Queen of Jordan. I think she was looking to chronicle her husbands life, fight for peace in the middle east and bringing a bigger understanding about Jordan, its people and some of the circumstances in the Middle East. She succeeded in most of those respects.
She opens the book talking about herself and then when she meets King Hussein, the book shifts to him. A big portion of the book is about politics. But what becomes endeering is the love this woman felt for her husband. And this really shows when she discusses him as he is dying.
I was a little disappointed that she didn't reveal more about herself. But I was glad that I read this book because it gives a glimpse into a life that most of us never would be privy to. Be prepared that this book is anti-Isreal and very pro-Arab. In some ways this is good. In America we don't see another side to the story when it comes to Arab issues.