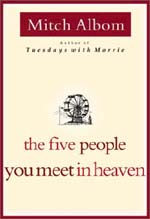 The Five People You Meet in Heaven

I finished Mitch Albom's
The Five People You Meet in Heaven
last week. I had lower expectations for this book from other reviews I read but I cam away pleased to have spent time with this book.
The premise of this book is simple, and luckily Albom stays true to it by not dragging it out too long or making it more complicated.
Eddie, the 83 year-old main character works at a small theme park by the Atlantic Ocean and has spent the majority of his life growing up and working there. In a freak accident he dies. The author contends that when you die the first thing you will do it meet five people from whom will make sense out of why certain things happened in your life. And for Eddie it explained why some life altering this happened to him and how some things that happened to those around him ultimately affected him. And what it comes down to is that we are all connected even though we are not often aware of it. And when you are done with your people you will provide comfort and understanding to those who you affected.
Simply written and simple ideas. It's a nice change to read something like this. This is a nice summer read.