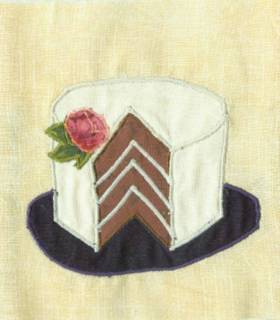 Cake seems appropriate

Sunday will be Sarah Says' first anniversary. I thought I'd get a head start with a look back at some of my favorite posts. I'll be revisiting the past year of Sarah Says for the next week. But here are some of MY favorites.
Remember the first post?
June 13, 2003
Howdy!
Well, since it seems everyone is doing it, I thought it was time that I did too, have my own blog! While I am trying to figure this whole thing out it might not be that pretty or interesting, but wait, it'll happen. Oh yeah! So sit back and enjoy and if you have suggestions get your own blog!
I still say if you don't like it, get your own blog!
Sickness in the workplace....
June 24, 2003
SARS Could Be Sitting Next to Me
Co-worker Andrew Meadows just got back from Toronto (SARS Central). He was attending his brothers nuptials. I told him that the first cough or sneeze from him and he's outta here. Wonder if I bought him one of those medical masks he would wear it?
Hey, I only have 2 sick days left, I have to be cautious.
Now I just have a sweaty guy from New Jersey sitting next to me, don't know which is better...
Personal Grief...
Wednesday, September 24, 2003
One Year Ago Today.
One year ago today my family lost a son and a brother, a cousin, a nephew, a grandson.

One year ago today many lost a friend, a confidant, a leader, an organizer, a listener.

One year ago today my brother Paul died unexpectedly. One year ago today parts of my family's hearts died too.

It still hurts. A lot.

There are so many times I read things or hear things I would have wanted to make sure I told him. Jokes and goofy stories and breaking news that I thought I would have heard first only to be told he knew. Although the one thing I didn't get to tell him before he died is how much I thought of him. How much he meant to me. How much I love him.

Paul I miss and love you.
I miss him more than ever.
and last for tonight Pancakes!
Nov. 6
From Cheese to Pancakes
Dave and his very complimentary spouse Britt seem to have gotten a little food poisoning from eating at I-Hop over the weekend. Sister Chef says most likely it had to do with some cross contamination, with some meat or something.

This set off a range of pancake songs. I have to say I love breakfast foods. So it's not too hard to come up with songs like:

when you're feeling hungry...
... for breakfast food ...
... what ya gonna eat?
... hot pancakes!

Pancakes are tasty ... pancakes are fun ... if you don't eat a pancake
... your breakfast isn't done!

Pankcakes...sticky, warm and buttery pancakes, I love the way they are...

It's a pancake life for me it's a pancake life for me! Instead of cereal we get pancakes, instead of waffles it's pancakes I-I crave...it's a pancake life!

There's others...but I sent them yesterday and I can't remember what I wrote...but you get the idea...Pancakes are yummy! I don't know if as yummy as cheese, but up there! Especially the ones my mom makes...she's really talented in breakfast making department.
You can't go wrong with pancakes.
Join in the celebration! Have a favorite memory/post? Let me know. But if you're like me, you won't remember either, I had to go back and read the archives. Help yourself and lets celebrate one year of what I had to say!