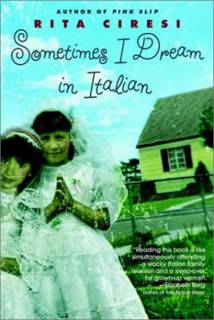 Sometimes I Dream in Italian

I finished reading
Sometimes I Dream in Italian by Rita Ciresi
last night. I have mixed feelings about this book.
The first 1/3 of this book was really good. It was often funny and touching. It started out about life of Angel and her older sister Lina growing up in an dysfunctional Italian family. But then Ciresi seems to lose her way. Suddenly you are in different time frames which aren't explained and you are continually dropped into scenes this way. The books sinks into crude commentary and too many stereotypes at times. I really wanted to like this book because it started so well. I can see the potential. But the author seems to have lost her sense of which way the book should have gone and it never came back around. Even the ending didn't really bring any closer and left we thinking what the heck? I didn't get the reference on the last page that the author seemed to expect everyone would.
Next I'm reading
The Five People You Meet in Heaven by Mitch Album.
He's the acclaimed author of Tuesdays at Morries.