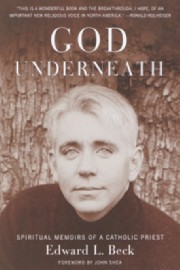 God Underneath

I've been busy reading. I finished
God Underneath: Spiritual Memoirs of a Catholic Priest by Edward L. Beck
mid-last week.
I was given this book by a friend at work and I am glad I read it (well, Mom did read it first and she approved so I went ahead with it.)
Edward Beck is a Passionist Roman Catholic priest. What that means is he is in a religious order dedicated to teaching that Jesus suffered, was crucified and died for the sins of the world. And out of that flows their work with the sick and those whose lives are filled with pain. He also is a retreat leader that travels the country.
An interesting part of this book is he talked about how he came to be a priest. He didn't set out thinking that's what he was going to spend his lives work doing. He started out as a stockbroker in training on Wall Street. He wasn't suddenly struck by God and immediately changed path. It was a shift.
Beck also takes you through what it is like to be celibate. And yes, he does get lonely. He says not for sex, but for the intimate relationship in a romantic relationship.
He takes moments in his life that made a difference to him or others and relates it back to God. And there was nothing pretentious (except for a few of his word choices) or condescending about any of it.
He also wrestles with the churches stance on homosexuality. He wonders if Jesus were here if he wouldn't be reaching out to them because in our society they are being seen was the lepers of his time. That we should not condemn, but love. I kinda liked that.
He also takes issue with women not being able to be priests. He sees that one day the church will have to change for its priesthood to survive and to serve its people.
There are many other great stories... I was impressed with Beck as an author. I think I will be looking at getting his new book
Unlikely Ways Home.