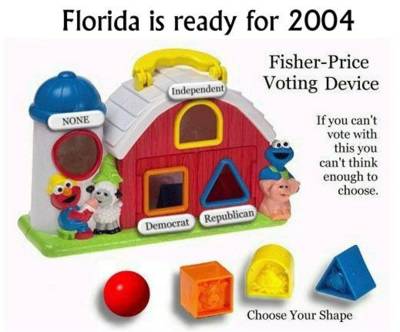 We're Ready, Are You?

I saw this photo illustration and thought it was pretty funny. And yes I know it's wrong, Elmo and Cookie Monster would NOT be on a Fisher-Price toy. But it still is funny.
We are expecting a heavy turnout tomorrow at the polls here in Florida and I think it's very exciting. All these years we have complained that no one cared and voted and now there are all these people complaining that they have to wait to vote. Get it right people, it's one way or the other! There are people all over the world have to walk many miles just to get to a place to vote and then wait for hours in difficult situations. And there are many who don't even have the option TO vote.
So I for one am happy so many people seem interested in politics and plan to vote. Since I am not political at this site I won't say who I like, but I will say that I am proud to be American and feel very lucky to have the freedoms we do. I'm exercising the right so many died for to give me and I hope you do too.