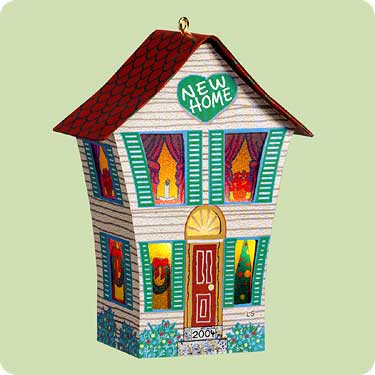 In remembrance of our first house.

Christmas trees are like scrapbooks. They tell a story. This is especially true in my family. While some families prefer monochromatic colors and a big box of same-looking balls, mine gives and receives than at Christmas regularly. Each one individual to the recipient(s) and each one with a story. Above are two of the ornaments we received this year. The top one I gave hubby. He spent a lot of time yelling at the cat trying to make him understand that he couldn't be playing with the ornaments and knocking them down. The second one my parents gave us in honor of owning our first house together this year. It's a cool one, you place a Christmas tree light bulb in the back and so when the lights go on, the windows and door light up looking like someone is home.
Others received include a calico engine of a train from my Grandmother (my Grandfather was a railroad engineer and this will remind me of him) and white beaded stars that my sister and my grandmother handmade for us. They are really cool.
I took them off the tree last night, I had hoped hubby would have taken the tree down today but it's still there, and enjoyed looking at them and remembering the stories. This is something I want to be able to do one day with my children if we are blessed with them. Pass on the stories and help make new ones.