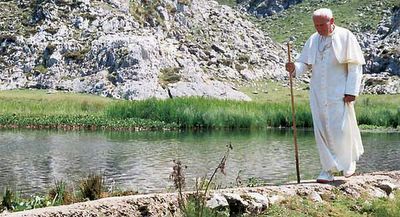 A New Journey Begins

At approximately 9:37 p.m. Rome time Pope John Paul II died and went to be a peace.
It has been extrodinary to watch and listen to the media accounts surrounding his illness, decline and now death. More than a billion (yes, that's with a B) Catholics around the world have been offering prayers as well as people from all walks of faith. This was a a great man who had the admiration of many including myself. He held tight his beliefs and refused for others to corrupt it. He was loved by the young, and everyone who I have ever heard who had met him spoke the the energy, the passion the love they felt, even as his age and Parkinsons disease took hold of his body.
So today I am in mourning with the world but I am at peace because I know the Pope is now starting a new journey, a journey to be with his best Lord, and because of this it is also a joyous time. And in honor of a man who stood for peace I submit to you a Prayer for Peace from St. Francis of Assisi:
Lord, make me an instrument of Thy peace.Where there is hatred, let me sow love;Where there is injury, pardon; Where there is doubt, faith;Where there is despair, hope; Where there is darkness, light;Where there is sadness, joy.
Divine Master, grant that I may not so much seek to be consoled, as to console; to be understood, as to understand; to be loved, as to love; for it is in giving that we receive, it is in pardoning that we are pardoned, it is in dying that we are born to eternal life.